Arcs & Sparks, Inc. provides customers in the greater Houston and surrounding areas with custom welding and fabrication services. We fabricate to your design and standards or help create a design to suit your needs.
We believe that quality and dependability is paramount in fabricating custom products for your company. This in turn increases your productivity and helps your business grow when receiving quality products.
Our service department is available to ensure our products are installed correctly and in a timely fashion. Additionally, we make sure your equipment is operating effectively and efficiently.
For more than 17 years, Arcs & Sparks, Inc. has provided customers with custom welding and fabrication for a variety of industries such as Food & Beverage, Hotels, Home Builders and Construction Companies. We specialize in Stainless Steel, Aluminum, Brass, Copper and Carbon Steel.
Consultations are free. Contact us today at 936-756-4030 to set up an appointment to go over your next project. We're here to help YOU make your designs come to life!
Give us a call... 936-756-4030.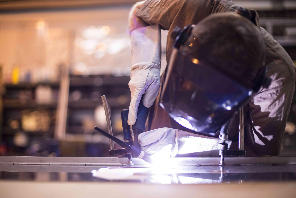 Welding that's a cut above the rest